¶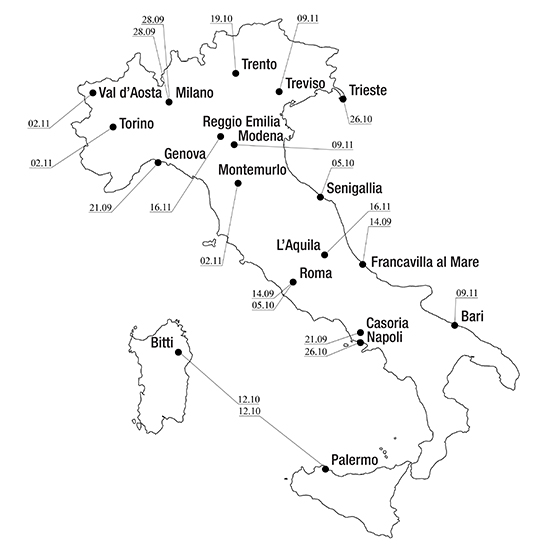 Ogni domenica dal 14 settembre al 16 novembre abbiamo attivato un collegamento video tra gli spazi dell'edificio Corderie all'Arsenale e alcune case italiane, per intervistarne gli abitanti. Si poteva assistere alle conversazioni dal vivo, direttamente dal palco C o D, oppure consultare l'archivio delle interviste già realizzate attraverso l'installazione dedicata al progetto Calling Home e predisposta sull'Accumulator Wall, sempre nell'edificio delle Corderie all'Arsenale.
Every Sunday, from September 14 to November 16, we have established a video connection between the spaces of the Corderie building at Arsenale and the domestic spaces of some Italian homes, to talk with their occupants. You could watch the live conversations directly from the stage C and D, or consult the archived interviews through the installation dedicated to the Calling Home project on the Accumulator wall, always in the Corderie building at Arsenale.


14 settembre, palco C/14 September, stage C

12.30 Antonio Di Campli – Francavilla al Mare – una casa su lotto/a detached house
14.30 Sandra Annunziata – Roma – ex patrimonio pubblico in vendita/historic public housing for sale


21 settembre, palco D/21 September, stage D

12.30 Enrico Formato – Casoria – nuovi emigranti/new emigrants
14.30 Francesco Gastaldi – Genova – immigrati e proprietari/immigrants and house-owners


28 settembre, palco C/28 September, stage C

12.30 Federico Zanfi – Milano – ospitalità domestica/home hospitality
14.30 Silvia Sitton – Milano – lavoratori in coabitazione/a workers' cohousing


5 ottobre, palco C/5 October, stage C

12.30 Cristina Renzoni – Senigallia – "Vivere verde"/"Green Living"
14.00 Alessandro Coppola – Roma – borgata Boccea


12 ottobre, palco C/12 October, stage C

12.30 Daniela Ciaffi – Palermo – abitare il "sacco"/living in the "sack"
14.00 Milena Farina – Bitti – una casa in autocostruzione/a self-built house


19 ottobre, palco C/19 October, stage C
12.30 Cristina Mattiucci – Trento – casa condivisa da ricercatori fuorisede/a researchers' cohousing


26 ottobre, palco C/26 October, stage C
12.30 Carlo Vinti – Napoli – un parco residenziale/a residential park
14.30 Elena Marchigiani – Trieste – il riscatto città pubblica?/redeeming the public city?


2 novembre, palco C/2 November, stage C

12.30 Roberto Dini – Ollomont – riabitare la montagna/returning to the mountains
13.30 Massimo Bressan – Montemurlo – un condominio multietnico/a multi-ethnic condominium
14.30 Gaia Caramellino – Torino – abitare l'ex casa di un ente assicurativo/living in the former housing of an insurance corporation


9 novembre, palco C/9 November, stage C

12.30 Fabio Vanin – Treviso – la villetta/the little villa
13.30 Francesco Curci – Bari – un quartiere da una lottizzazione costiera/a coastal allotment turned into neighbourhood
14.30 Manuel Orazi – Modena – abitare da soli nella casa dei genitori/living alone in the parental house


16 novembre, palco C/16 November, stage C

12.30 Claudia Faraone – L'Aquila – tornare a casa/returning home
14.30 Filippo De Pieri – Reggio Emilia – una comunità orizzontale/a horizontal community